●       The Next In Beauty Conference at the 27th edition of Beautyworld Middle East, the region's largest trade fair for the beauty, hair, fragrance and wellness industry opened at the Dubai World Trade Centre and runs until November 1st.
●       Renowned Emirati skincare entrepreneur, Salama Mohamed took to the stage as the keynote speaker in a one-on-one conversation with Lauren O'Connell, Beauty Editor of Cosmopolitan Middle East, to share her personal experience and the inspiration behind the launch of her skincare brand Peacefull.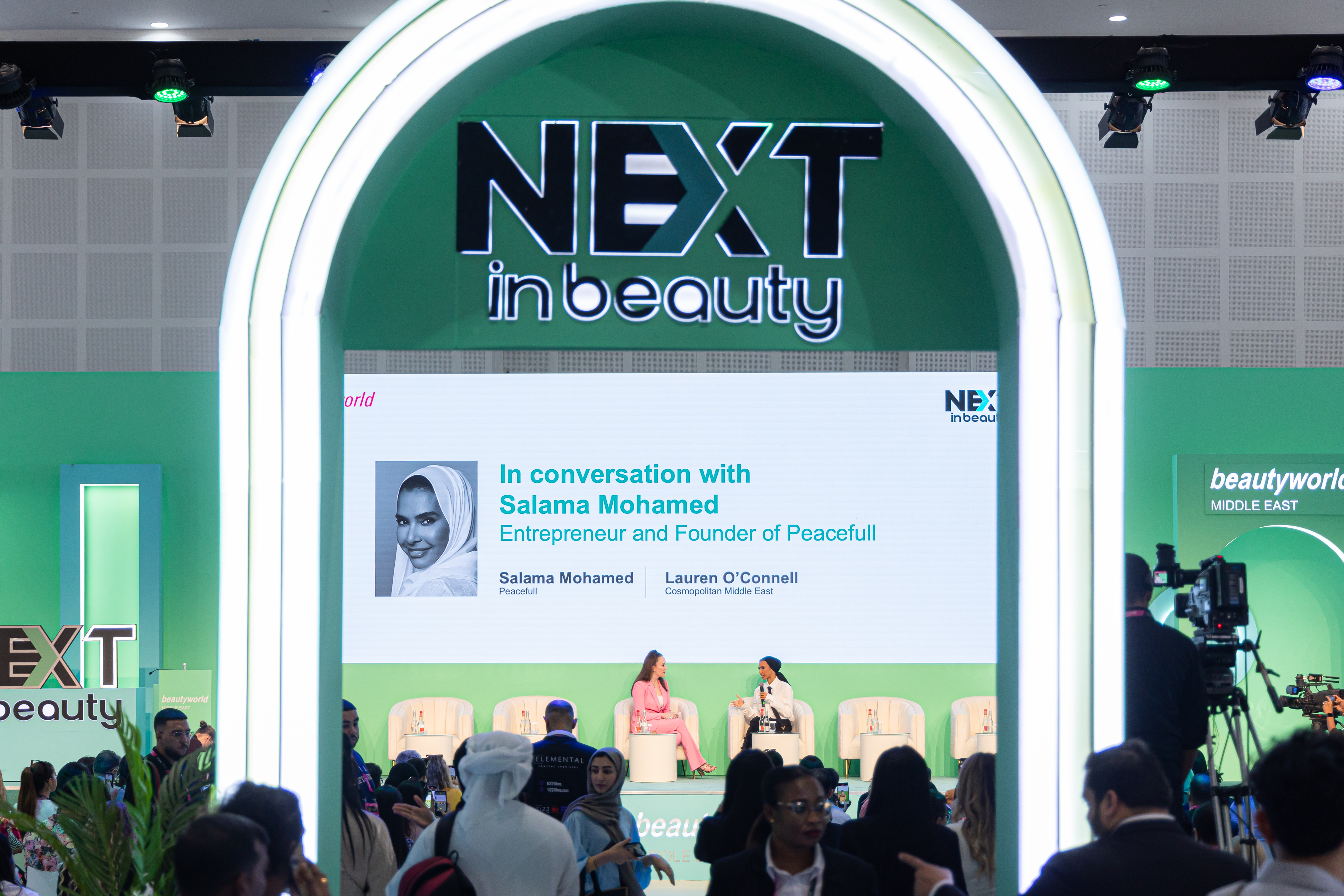 Dubai, UAE: Exploring the quest to find the answer to her own skincare challenges,  Salama Mohamed revealed how her own consumer experience led her to realise that there were no beauty products  in the market for the Middle Eastern woman. Her journey from content creator to skincare entrepreneur was shared on stage at the Next In Beauty conference on day one of Beautyworld Middle East 2023.
Discussing the profound impact of her Emirati heritage and the science underpinning Korean skincare on the creation of products tailored to the unique conditions of the Middle East region, the key topics of representation, diversity and inclusion stood out for the day's opening agenda at Dubai World Trade Centre
"Not fitting in the beauty box, and feeling like a minority within a minority" became apparent to Salama, who has had Vitiligo from the age of 5. Her own inclusive, unisex brand of skincare, Peacefull, was born out of her need to create something non-sensitive for herself and others from scratch.
"Peacefull represents not only myself, but my own journey of finding inner peace with my own skin and ultimately who I really am" Mohamed told Lauren O' Connell, Beauty Editor, Cosmopolitan Middle East, in a one-to-one chat.
Even after the success of the Peacefull brand, Salama still carried doubts, she told the audience. "The reaction to the brand, an Emirati founded skincare brand at that, was beyond my expectations' ' she continued. "We sold out within the first nine days of launch and were in three retail stores - my self-doubt then meant that we ran out of product quickly and had to wait four months for a restock"
For the ME market - Peacefull products were put to the ultimate test: "We placed the products for three months in a 50 degree heat environment  - mimicking the UAE weather, just to test how good the packaging  is and if it will seep any chemicals into  the products. To be able to produce the best quality I needed to patent every product and source the very best packaging that keeps the integrity of the products without jeopardising the quality"
It took Salama three years to finish the Peacefull products, from the bottles, the formula and even the fragrance.
From an advertising point of view, Salama was keen to express that Peacefull is "not just another influencer brand", relying on real people with real skin issues to showcase authenticity and representation"
A self-confessed 'advocate for changing the narrative', Mohamed aims to stand up and be counted. Salama is an advocate for standing up and changing the narrative in beauty representation. "Standing up for ourselves, for the products we need and have created - we no longer should be a minority and we deserve the best for whatever we are going to pay"
Mohamed is at the start of her entrepreneurial journey and it is a 'tough one' according to her. "The false belief is that once you are an entrepreneur you have more freedom or more time, but it is stressful with no real control over anything - a lot is sacrificed in my journey every day"
Would she do it all again? asked O'Connell. "100 %" replied Salama - "it is worth it." Her advice to anyone starting their entrepreneurial journey is to "always be curious, ask questions, learn about everything yourself and never fully rely on others"
The Next in Beauty Conference features an array of important industry sessions encompassing market intelligence, emerging trends, and revolutionary technologies reshaping the beauty sector on both a regional and global scale. As part of Beautyworld Middle East 2023, the three-day agenda will expose attendees to fresh viewpoints, new insights and advanced business strategies from a range of international trend analysts, key brand experts, educators and business leaders from around the world. Innovation, market trends and the Middle East's business landscape for a booming beauty industry will be explored between 30th October and 1st November.
For more information, please visit the Beautyworld Middle East website - https://beautyworld-middle-east.ae.messefrankfurt.com/dubai/en.html
Media wishing to attend the show and conference can also register here - https://registration.infosalons.ae/BWME23DU/Media/MesseFrankfurt/Welcome