●       Sterling Perfume Industries CEO and Chairman, Ali Asgar Fakhruddin, received the Lifetime Achievement honour for his 40 year dedication to the region's booming beauty industry at The Beautyworld Middle East Awards 2023 held on October 31st
●       The Beautyworld Middle East Awards 2023 were held at The Grand Hyatt in Dubai on October 31st in a glittering evening of celebration of the beauty industry's finest achievements in people, products and innovation.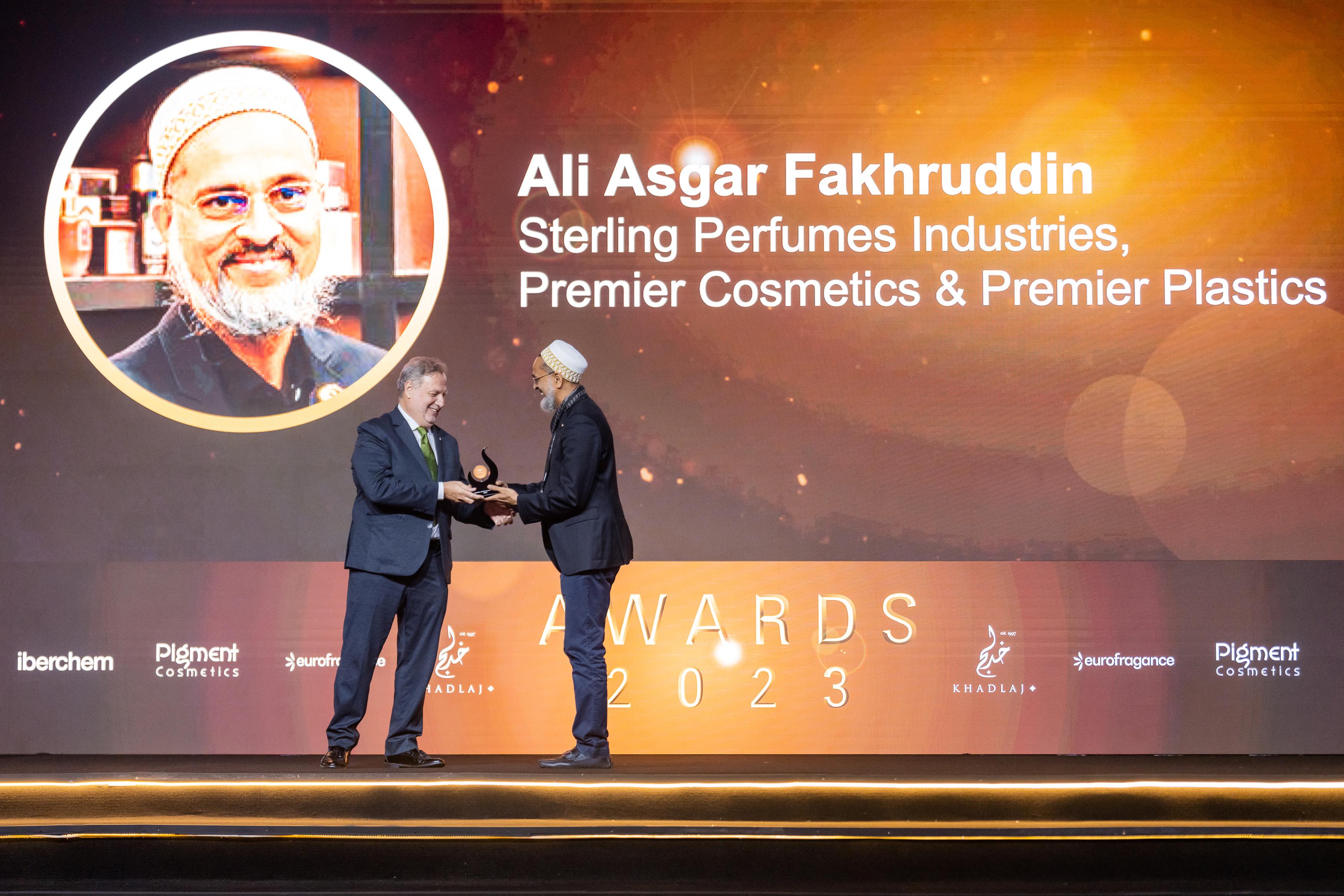 Dubai, UAE: For over twenty years, Ali Asgar Fakhruddin, CEO and Chairman of Sterling Perfume Industries has successfully built three renowned brands under the company umbrella. The Cosmo Cosmetics brand of premier cosmetics, Hamidi Oud and perfumes and ARMAF – Luxury French Fragrances, which have become household names regionally within the fragrance, cosmetics, and beauty industry.
Crediting innovation and a commitment to both quality and the customer, his expertise and dedication to the sector's growth over this time was rewarded with the Lifetime Achievement honour at the Beautyworld Middle East Awards, which capped off day two of Beautyworld Middle East 2023, the region's largest trade show for the beauty, fragrance and wellness industry.
In 2003, Sterling was operational in 20 countries and concentrated on private labelling, operating from a modest 10,000 square ft facility in Dubai. As of 2023, Sterling's global presence has expanded to over 125 countries, demonstrating remarkable international market penetration and reach with an extensive portfolio of around 8,000 SKU's, showcasing adaptability and responsiveness to evolving market needs. The latest manufacturing unit reaches over 500,000 sqft underscoring the company's scalability and ability to meet ever-increasing production demands.
Starting with no proprietary brands of its own in 2003, Sterling now has over 50 distinct brands, demonstrating expertise in brand creation and diversified market segment coverage. The two-decade trajectory of Sterling Industries under the leadership of Mr Fakhruddin has been marked by international expansion, product diversification, manufacturing capacity growth, and brand portfolio expansion. These milestones exemplify Sterling's adaptability and thriving success in the competitive corporate landscape.
Starting his journey within the business 40 years ago, Fakhruddin started with a vision to create high-quality, yet accessible fragrances that resonate with consumers globally. He cites his career as a "Commitment to excellence, innovation and tireless dedication"
Upon receiving the Lifetime Achievement Award, he detailed his key lessons from his tenure so far: "The lessons I've gathered within the fragrance and beauty industry are invaluable. For me, first and foremost, quality is non-negotiable. Consistently delivering products that meet or exceed customer expectations is the cornerstone of success. Adaptability is another crucial lesson - the industry is ever-evolving, and we must stay ahead of trends and consumer preferences. I look at the bigger picture, with the expectation for the global market and for every region. Building strong, long-lasting relationships with suppliers and partners is vital, as trust is at the heart of our business"
The unique nature of the cosmetics and fragrance industry is what he loves the most. "The art of designing a good fragrance that touches the soul of the people who will indulge in the scent again and again. Creating fragrances and cosmetics with the artistry and science that goes into each creation is about crafting an experience that evokes your soul, your emotions, and your memories and ultimately makes you feel happy and content"
The Middle East market experience is a vital factor in both the company's success and the individual leadership of Mr Fakhruddin as Chairman and visionary leader. As the local market continues to grow and enjoy more global recognition, he says that "We now see a lot of fragrances being Oriental in scent - our culture of the Middle East is reaching beyond borders and people are loving the origin of oriental ingredients - Oud, Amber, and our region's Agarwood, Amber, Vanilla, Saffron, Rose, and Pinkpepper amongst others. The Middle East is now a hub of luxury and opulence, and its impact on global trends cannot be understated. Going forward we see a lot of fragrances being 'Floriental' – French and  Oriental, which is derived from this region"
As for his legacy, with plans to work in the industry as long as he can, Ali wishes to create a heritage that can continue without him." I would love to transfer my knowledge and learnings to others so it benefits the generations to come and the industry itself. When the day comes for me to step down or retire from the perfumery industry, my greatest legacy would be the establishment of a brand that is synonymous with quality, luxury, and accessibility.  I aspire for all our products to grace every home, leaving a lasting legacy of quality and value."
Reflecting on his 'Lifetime Achievement' recognition, Fakhruddin offers advice for those who follow him: "Be passionate, and work with dedication and honesty, I would advise unwavering dedication to your vision. Keep good relations with the industry peers. Be open to learning and adapting to market dynamics, build strong relationships, and prioritize quality. Always keep the customer at the center of your decisions, and never compromise on integrity and ethical business practices"
Flyn Roberts, Portfolio Director at Messe Frankfurt Middle East, organisers of Beautyworld Middle East 2023 said "It was my honour to present the Lifetime Achievement Award to Ali Asgar Fakhruddin at the Beautyworld Middle East Awards. His leadership has helped the Middle East region have a significant influence on global fragrance and beauty trends, thereby bridging cultures and resonating with a global audience while his aspiration to create a lasting heritage and share his knowledge for the benefit of future generations exemplifies his visionary leadership."
The Beautyworld Middle East Awards 2023 took place on 31 October and honoured people, products and innovation across the entire beauty industry. The full list of winners is available on the website -  https://beautyworld-middle-east.ae.messefrankfurt.com/dubai/en.html